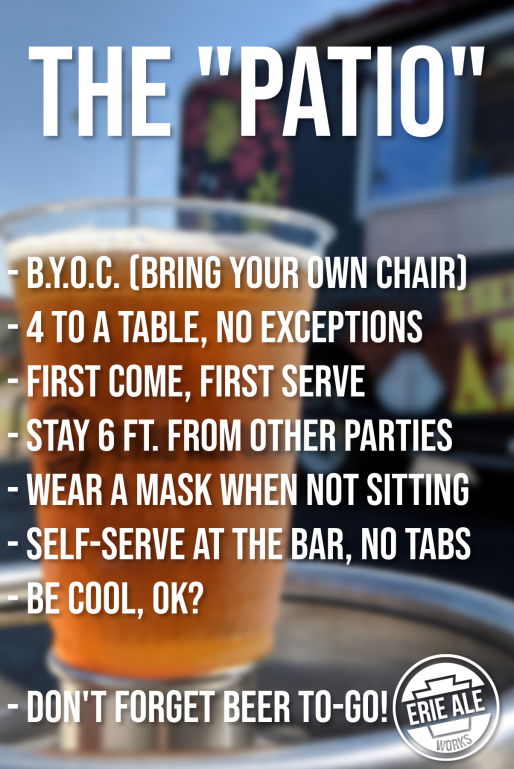 Sit Outside And Drink A Beer, Would Ya?
We've been waiting to pull the trigger on this, in hopes our county moves to the green phase, and least-restrictive phase of the you-know-what pandemic. Our thought was the shift to green would allow people into our taproom to enjoy the space we built late last year, with our beer in a glass.
Instead we're going to provide a limited number of outdoor tables, for which you'll need to bring your own chair. This B.Y.O.C. policy will keep the atmosphere nice and casual, just like us. In our move from just carry-out service to pints, we'll extend our hours too. We will see how the weekend pans out but Friday from 3:00-10:00pm and Saturday from 12:00-10:00pm will be the standard.
You'll see this on every table:
Keep in mind we're taking this seriously. COVID-19 isn't going away soon, and we want to do our part to mitigate any spread while trying to turn a dollar in keeping our business afloat. So be cool, ok? Follow the rules (y'all should be familiar with them by now, because it's the same everywhere) and we'll be in great shape.
So, buy your beers at our bar, take said beers out to the "Patio" and enjoy! The Atacolypse Truck will be with us Friday 6/19 for Fajita Friday, if you want some slammin' truck food.